Our Services include...
• All
export documentation
, customs brokerage, warehousing,
pick-up
and deliveries
• Fastest transit times to Kingston and Montego Bay
• Guaranteed transit times for all Kingston and Montego Bay shipments
• Weekly sailings to all countries of the Caribbean
•
Door to Door Service
in Kingston and Montego Bay
• Customs Clearance
Our local offices can arrange custom clearance on arrival of all cargo at final destination. There, the cargo is temporarily stored at our warehouse and collected or delivered as instructed.
Export and shipping documentation are undertaken as part of our services by our trained cargo specialists. Your documents are couriered promptly to the various consignment destinations to avoid delays. We pre-plan the shipment of cargo and closely monitor its movement from origin to final destination. In this way, there is minimum delay in forwarding, which avoids storage charges and minimizes pilferage. Shippers and consignees are regularly updated on the status of their cargo, which is handled through our communications networks.
•
Pick-up services anywhere in the USA
•
Inter-modal Transport
•
Trucking
•
Bonded freight warehouses if required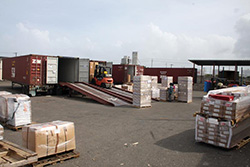 Our bonded secure warehousing facilities throughout our network allow you to consolidate your freight at no additional cost. You have the flexibility of examining, crating or special packaging of your cargo prior to shipment at one location, all for your convenience. Our staff is  fully trained and certified  in handling dangerous goods and hazardous materials. We are also equipped to handle perishables and oversized shipments.

The sales team at International Freight Consolidators Inc., is very knowledgeable and provides a full range of customer service, ensuring your total and complete satisfaction. We are licensed by the FMC and is recognized as a first class cargo consolidator in the Caribbean region.
International Freight Consolidators Inc., offers all risk insurance coverage, at very competitive prices. We encourage all shippers to take advantage of the minimal costs, thus providing the proper coverage and peace of mind when shipping valuable cargo.